Get the lowest price on the industry's top education program.
The Precision Nutrition Certification gives you the knowledge, skills, and confidence to help anyone achieve life-changing results. And because you're an exclusive partner, you can register now and save.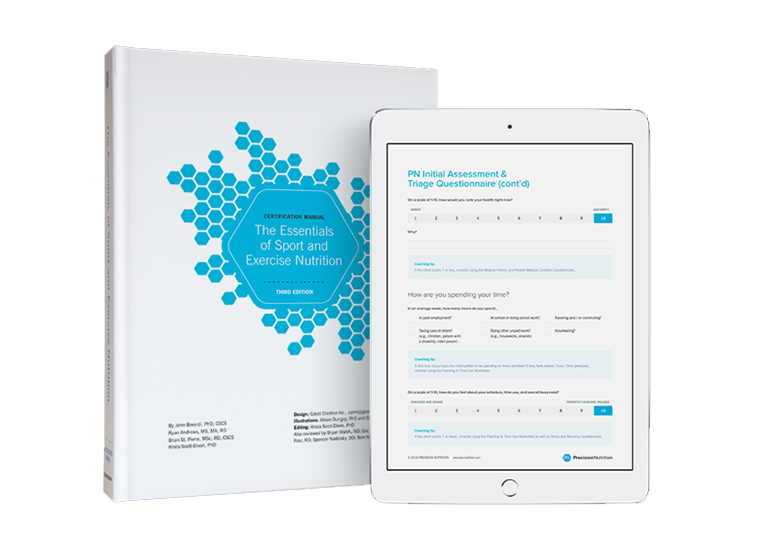 Precision Nutrition has worked with:

THE PRECISION NUTRITION CERTIFICATION HAS A SINGLE PURPOSE:
To help you master the science of nutrition and the art of coaching so you can get life-changing results for yourself and the people who come to you for advice.

Elite coaching methodology.
This is the system the pros turn to. Learn from our 20+ years working with everyone from Olympic gold medalists, to NFL, NBA, UFC, and NHL athletes, to recreational exercisers, to Fortune 100 companies like Apple and Nike.

Study at your own pace, anywhere.
Work through the textbook, workbook, and online course videos at your own speed, anywhere in the world. Plus, you'll get help when you need it via our private, online support group.
University-level without the classroom.
This program is the culmination of the Masters and PhD courses we've taught, the data we've collected, and the research we've published.
Online exams.
Take the exams online at the end of each chapter (18 chapters total). Achieving 75% or more over the course of the program earns you a passing grade and your Pn1 credentials.

Scientifically proven system.
The Precision Nutrition Method has been tested with over 100,000 clients and patients. Plus it's been validated in 3 separate peer-reviewed scientific publications.
Free shipping anywhere in the world.
Get the textbook and certification materials shipped directly to your door, at no cost, no matter where you live.
Access to the ProCoach software.
As a PN student you'll get the chance to use ProCoach, our cutting-edge nutrition coaching software that allows coaches to help more people, in less time, with better results.

100% guaranteed.
Try it for 45 days. If it's not for you, return your textbook before you certify and we'll give you a full refund.
What is the Precision Nutrition Certification?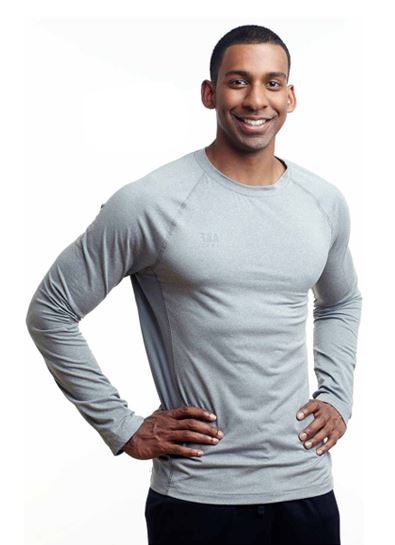 A deep understanding of nutrition, the authority to coach it, and the ability to turn what you know into results.
The PN Level 1 Certification will teach you all that, including the methodology we've tested, refined, and proven with over 100,000 coaching clients.
Imagine if you had all the nutrition, coaching, and change psychology research… all the scientific concepts… all the experience… all the practical "how-to" stuff… all in one place.
If you had a trusted source of education… a proven system… and real-life advice to help guide your professional development.
If it came in a clear, understandable, self-paced learning format that suited your schedule.
And if, at the end of the process, you had a system (like ProCoach) to deliver the habit-based nutrition coaching you just learned, so you can grow a practice while working less and getting better results.
That's what The Precision Nutrition Level 1 Certification is here for.
In addition to learning how nutrition really works, you'll understand how people think and act, and you'll be able to turn that into a thriving coaching practice.
This means you'll get better results, attract more clients and patients, keep them for longer, and make more money than you thought possible.
Whether you're:
just starting out in the field of health, fitness, or wellness;
an established professional in the middle of your career;
passionate about health and considering a career change;
working with people one-on-one or in a group setting; or
wanting to deepen your knowledge of nutrition…
… you can become Precision Nutrition Certified.
Fast Company rated Precision Nutrition one of the
most innovative companies in health and fitness.
The principles behind Precision Nutrition are the same type of advice Dr. John Berardi has been sharing with Olympians and professional athletes. What's different is that now anyone can work with Berardi and his team of coaches for less than it costs to join a CrossFit gym.
The experts that other
experts come to for help.
Developed by John Berardi, PhD, CSCS and co-written with Ryan Andrews, MS, RD, Brian St. Pierre, MS, RD, Krista Scott-Dixon, PhD, Helen Kollias, PhD, CSCS, and Camille DePutter, the Level 1 Certification is the synthesis of everything we've learned over 15 years of coaching and research in nutrition.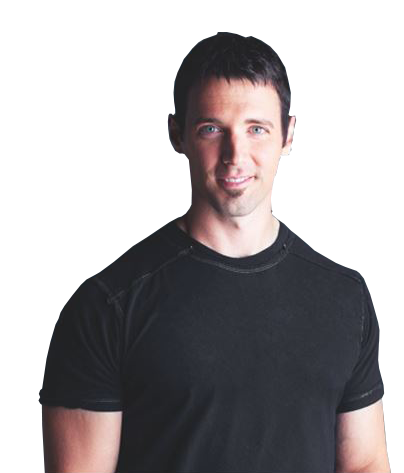 John Berardi PhD, CSCS, Co-Founder
Dr. Berardi (a.k.a. "JB") is a co-founder of Precision Nutrition, which has become the world's largest online nutrition coaching and certification company. He's an advisor to Apple, Equinox, Nike, and Titleist, and was recently selected as one of the 20 smartest coaches in the world.
I've devoted my entire career to making health and fitness something that's achievable and attainable for every type of person, from every walk of life.
Precision Nutrition advises organizations around the world, coaches elite athletes & sports teams, and has been featured in leading publications. There's a reason over 2 million people come to our website for advice every single month.

"John Berardi is one of the top sports nutrition experts in the world. He concentrates on simple solutions that actually work. That's why he's a key part of our high-performance team."
Paul Winsper
NIKE SPORTS PERFORMANCE DIRECTOR

"I was really looking to dial in and optimize my nutrition for performance and recovery. Precision Nutrition was a terrific resource to help me reach my goals."
Hayley Wickenheiser
FIVE-TIME OLYMPIC MEDALIST PRO HOCKEY PLAYER TEAM CANADA

"I have known JB for almost two decades. He has been – and continues to be – my 'go-to guy' for all things nutrition and change psychology; he has what all great teachers have: an ability to take complicated constructs, and communicate them in a way that makes sense to simple people like me."
Stuart McMillan
PERFORMANCE DIRECTOR / SPRINT COACH ALTIS WORLD
Thanks, John, for making me bigger and stronger. You are the best thing that I've added to my training regimen."
Georges St-Pierre
UFC THREE-TIME WELTERWEIGHT CHAMP
What's new in the 3rd Edition?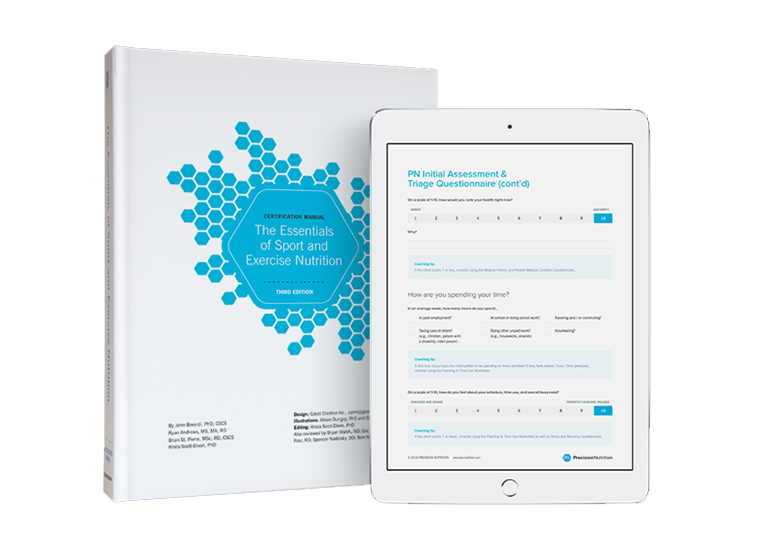 Now in its Third Edition, the Precision Nutrition Level 1 Certification has been completely re-envisioned from the ground up
Get the latest science, the latest practice — the very best nutrition education anywhere.
Since we first launched the Precision Nutrition Certification, we've been recognized as the world's most definitive source on the science of nutrition and the art of nutrition coaching.
Indeed, over 2 million people passionate about fitness and nutrition visited our website last month. That's enough to fill the Dallas Cowboy's stadium 20 times over. Yet we're never satisfied with yesterday's success.
Nutrition science is dynamic, new discoveries are made almost daily. And that's just on the research side. As we continue to coach clients (over 100,000 of them to date), we're discovering new methods of helping them achieve real, lasting behavior change.
That's why we're constantly updating the course curriculum. This is great for you since we recently released our third edition.
Brand-new 600-page textbook, with the latest research in nutrition, exercise, and psychology.
Each chapter teaches you key nutrition and coaching concepts. We took all the complex research and simplified it into an easy-to-understand format that makes learning enjoyable. The first half covers the science of nutrition. The second half teaches you a step-by-step process for putting what you've learned into action.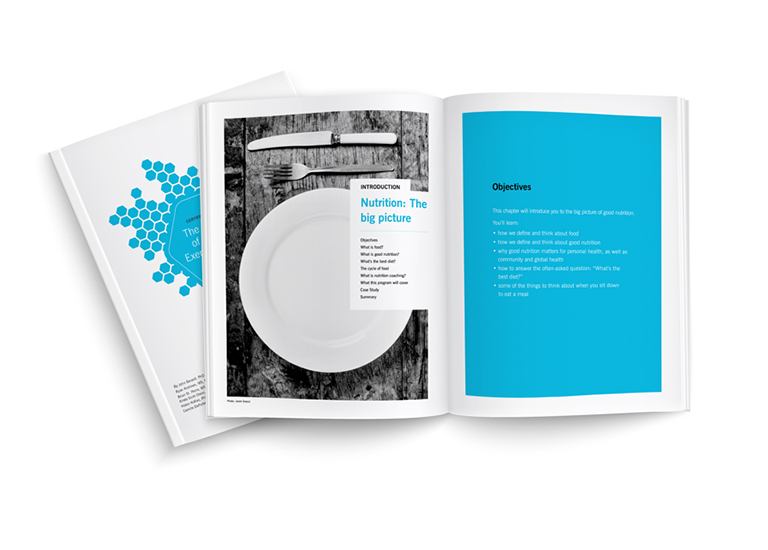 Brand-new video lectures, one for each chapter of the textbook, to boost your understanding and your retention.
Narrated by Ryan Andrews, MS, RD, and Brian St. Pierre, MS, RD, each video seminar corresponds with each textbook chapter. They'll help you better learn the material… and better retain what you learned. Watch (and re-watch) whenever you like.
Check out 4 sample lectures by clicking any of the videos.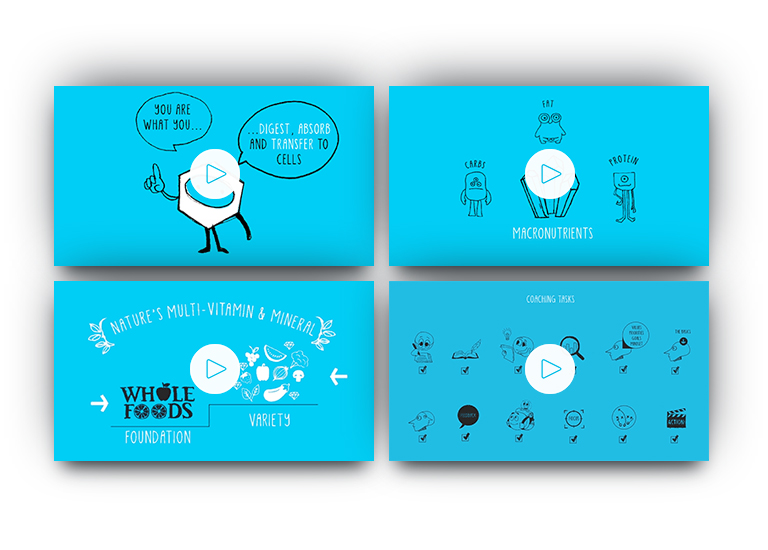 Brand-new assessment forms and questionnaires to help you better understand client and patient needs, and unlock their potential.
Once you receive your textbook and materials, you'll find all the forms, questionnaires, and assessment tools we use here at PN. They're all yours to use with the folks you help and support.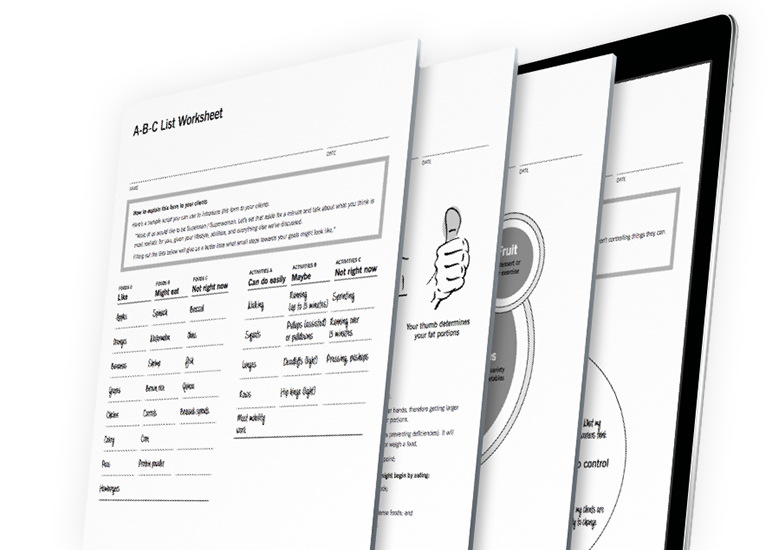 Online community of like-minded people and top experts.
You'll learn alongside an extremely supportive group of over 30,000 health enthusiasts from around the world — including world-class yoga instructors, top strength coaches and personal trainers, doctors from a variety of disciplines, and more.
Plus you'll get daily access to PN's top experts and coaches — that way you can ask questions and get feedback or advice whenever you need it.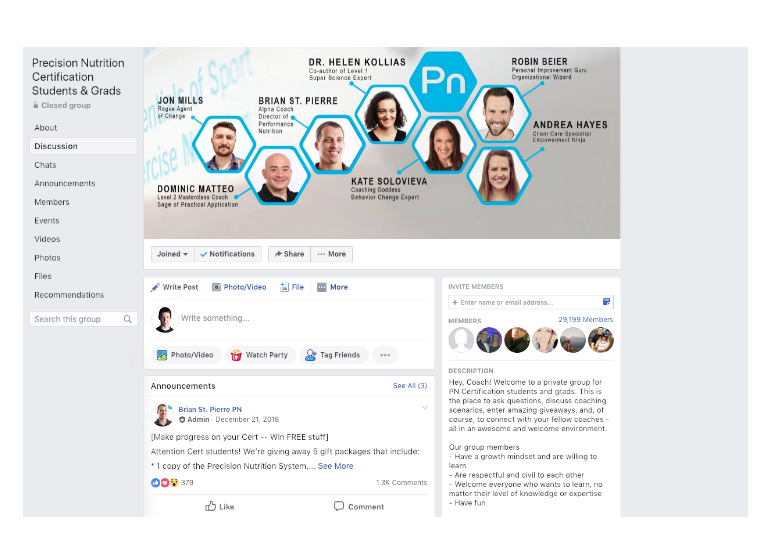 With case studies, lessons, tips of the day, and more, being part of this community will deepen your learning, introduce you to new people, and help you level up your career.
Access to ProCoach.
Precision Nutrition's ground-breaking software and curriculum
Tested with over 100,000 coaching clients, ProCoach makes it easy for you to deliver our proven nutrition & lifestyle coaching to anyone who needs it.
It'll help you grow your practice while working less, making more money, and living life on your own terms.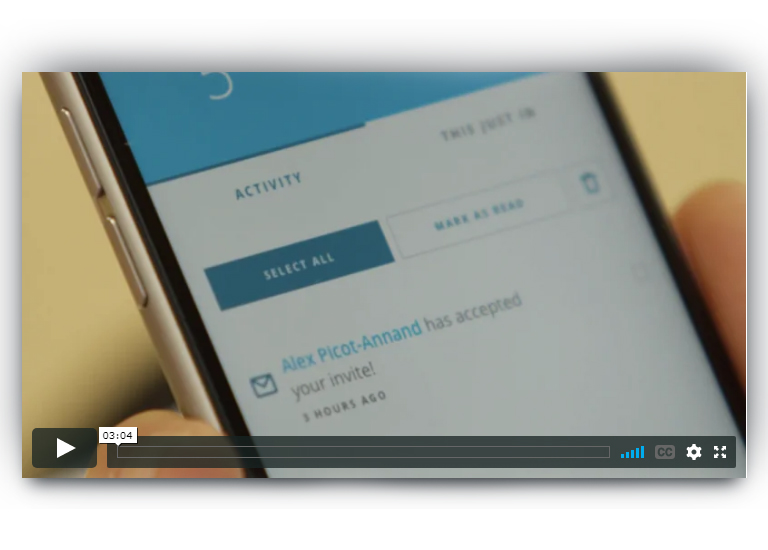 Learn what ProCoach can do for you and how you can use it in your coaching practice.
Life-changing results with Precision Nutrition.
Twice a year, we work with a select group of clients, coaching them using our proven nutrition system for 12 months. This allows us to continually test and validate our methodology.
After helping over 100,000 clients and patients get into their best shape ever, we're confident that you'll be able to see the same type of results with everyone who comes to you for help.
How the program works.
Once you register, you can start right away with our online study strategy guide – and you'll get your textbook shipped to you, free of charge, anywhere in the world.
Get access to more than 40 coaching tools we use with our own clients.
Once you receive your course textbook and materials, you'll find all the forms, questionnaires, and assessment tools we use here at PN. They're all yours to use with the folks you work with.
Our mobile and desktop coaching platform works in conjunction with your textbook.
Here's what your Home Page will look like, complete with lessons, videos, and exams for each chapter. Notice that you can access everything from whichever device you prefer.
Stay accountable and on-track with our simple 5-step process for each chapter:
Step 1: Read the chapter and mark that it's been completed.
Step 2: Watch the corresponding video lecture or listen to the audio lesson.
Step 3: Answer the practice questions in the workbook that you received with your textbook.
Step 4: Review the chapter FAQs.
Step 5: Take the end-of-chapter exam.
Become Pn1 certified.
By the end of the course, you'll have written 18 short, 10-question exams, for a total of 180 questions. Get at least 135 of the questions correct (75%) to earn your Pn1 credentials. We'll send your official certificate immediately after you pass.
Most of our students pass on the first try. But just in case you don't, you'll still have 5 more tries at the exam. And of course, we're here to help you along the way if you need it.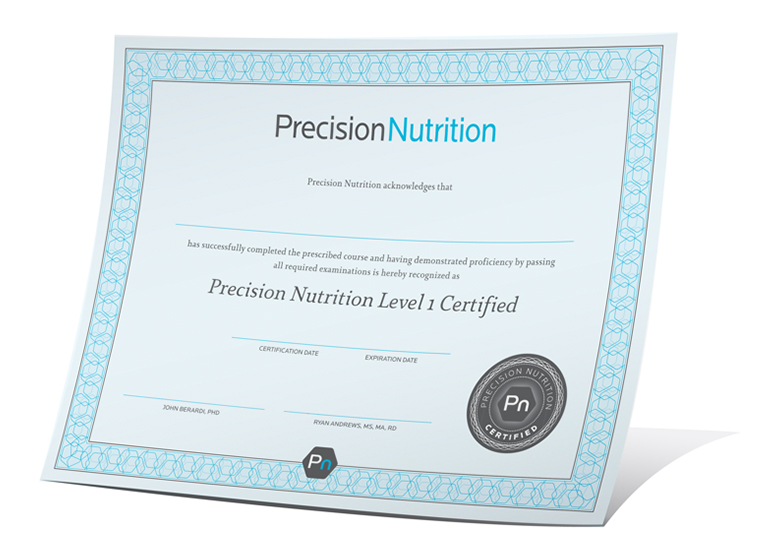 Get your business listed on the PN website.
Once you're certified, provide your business and contact information to be listed on our site. That way local people interested in PN-approved help can easily find you.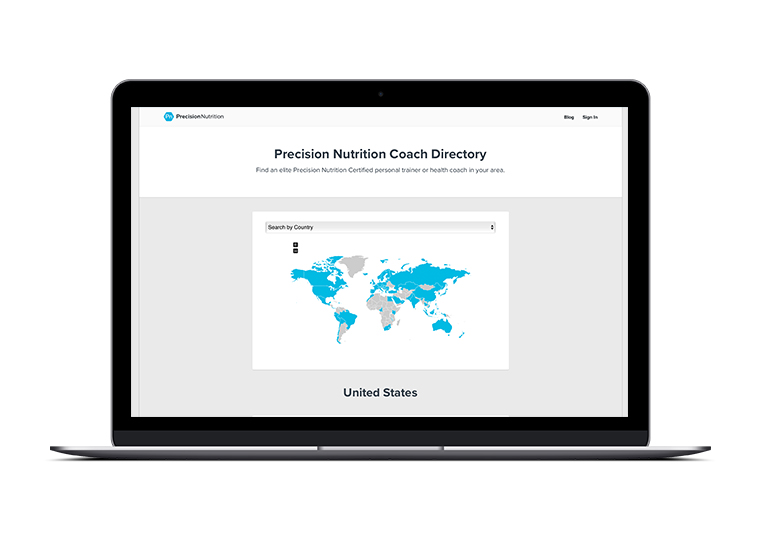 The Precision Nutrition Level 1 Certification qualifies for continuing education credits with the following organizations worldwide, including the following:

PN Graduates
The Precision Nutrition Level 1 Certification is trusted by elite health and fitness professionals worldwide.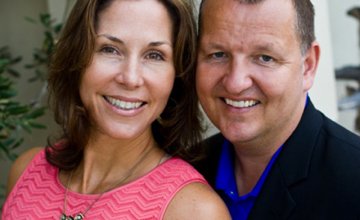 We have tried every nutrition program out there. Precision Nutrition is by far the most thorough, informative, effective system we have seen. Not only is our entire team PN-certified, we recommend it to every gym we consult with.
Alwyn and Rachel Cosgrove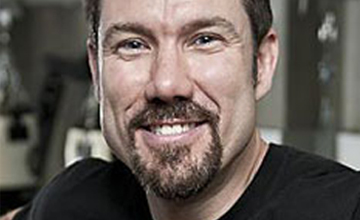 This certification is not only incredibly thorough, it also mixes practicality and reality into the program. The Precision Nutrition team is as interested in science as they are behavioral modification. And that's the true way to get results.
Martin Rooney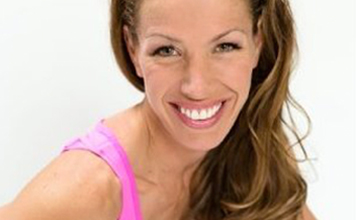 Not only will you come away from the certification with a tremendous amount of knowledge about nutrition — you will also gain valuable skills on how to assess and help each client you work with.
Kristin Schell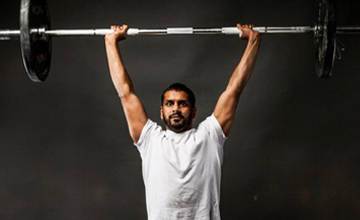 The Precision Nutrition Certification stands head and shoulders above all other nutrition programs because of its focus on actionable items for fitness professionals. There is simply no other course available that teaches you the art and science of coaching for every situation.
Devendra Chengkalath

From the average Joe to the professional athlete, Precision Nutrition is the system coaches, trainers and nutritionists need to add to their toolbox for optimal success. I highly recommend this certification for anyone who wants to make a lasting difference in their athletes' performance and health.
Adam Feit

The Precision Nutrition Certification helped me to combine the science of coaching with a sustainable method of implementing that science, making me a more capable professional.
Ron Dykstra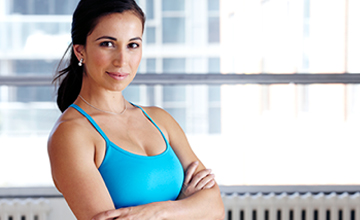 The Precision Nutrition Certification gave me the confidence of knowing I'm following a proven method that's brought success to thousands of clients. And it shows! My own success has increased since applying what I learned.
Carolina Belmares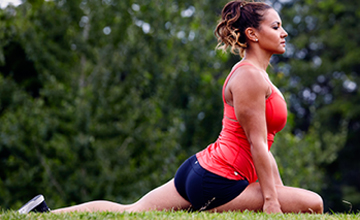 The Precision Nutrition Certification has added more value to my business by allowing me to use nutrition coaching with a whole range of clients. That's just one of the reasons I highly recommend the program.
Alicia Bell
The PN Certification is everything we've learned — brought together, and shared with you.
Unlike most other certifications, this isn't a program full of abstract theory that doesn't work in the real world. (Nor is it a program full of internet level, keyboard jockey type information.)
Instead, it's deep knowledge that's client-tested, scientifically proven, and constantly updated based on the data we've collected working directly with over 100,000 coaching clients and patients.
That's right, Precision Nutrition is the only nutrition certification company in the world that successfully coaches real clients every day.
Our Guarantee
Lots of companies guarantee their products. We guarantee our services, too.
Our students make a commitment to learn from us — and we make a commitment to help them become better coaches. Then our students decide for themselves: Was it worth it? If yes, they earn their Pn1 credentials and head out to change people's lives. If no, we give them a full refund.
That's our promise. Try the PN Level 1 Certification for 45 days. If you're not happy with what you learn, return your textbook before you certify and we'll give you every penny back. We're confident in what we do and we stand by our work.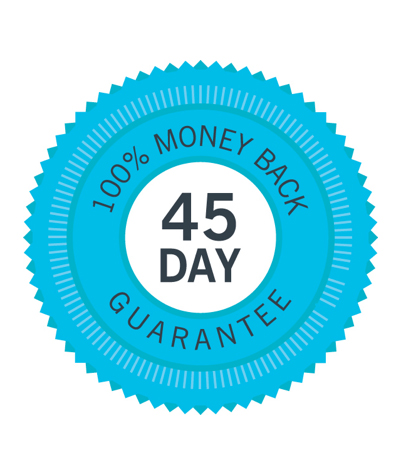 Pn1 students weigh in on social media
We recently went to our Facebook page (450,000+ fans) and asked our students and graduates to share their thoughts about the Level 1 Certification.
Here is what a few of them had to say: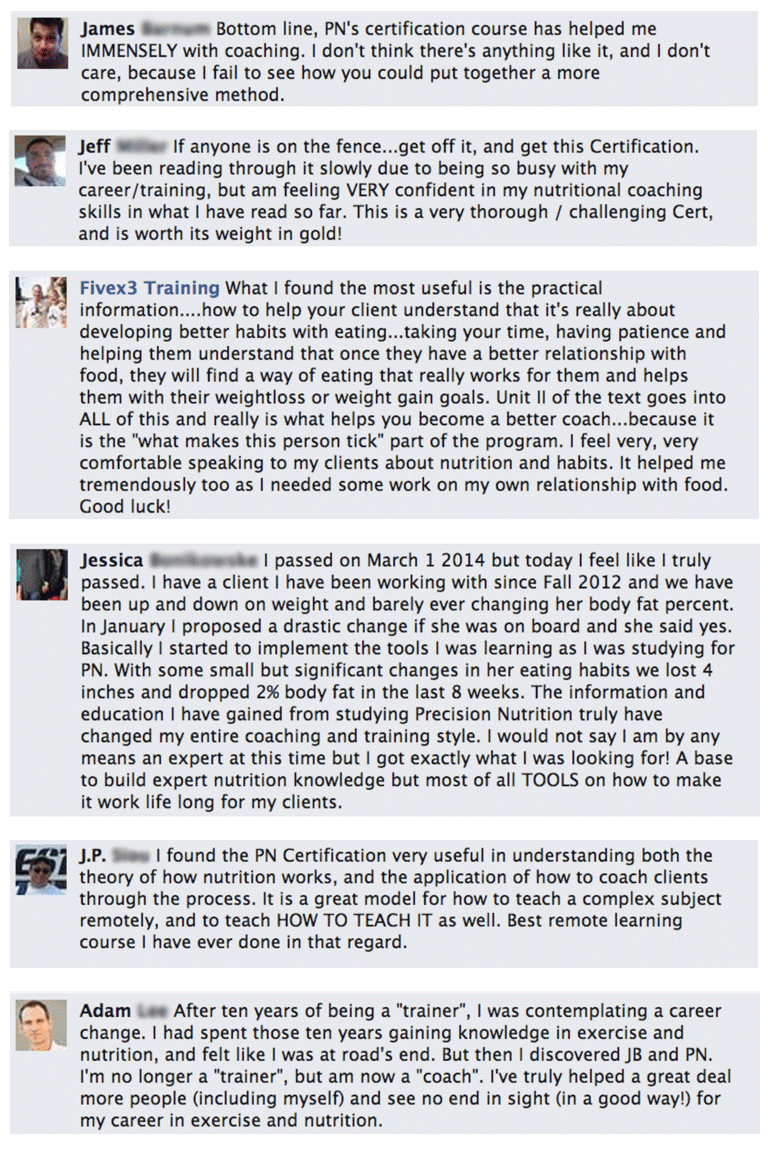 Frequently Asked Questions
What does the PN Level 1 Certification cover, specifically?
The textbook and certification course are split into two units.
The first half of the textbook covers the science of nutrition. The second half teaches you how to effectively coach nutrition with others, including advanced nutrition coaching, coaching athletes, behavior change, and motivational interviewing.
Click this image to download the table of contents and introduction.
Here are sample topics from Unit 1:
How and why your cells work the way they do
How carbohydrates, fats, vitamins, minerals, and other nutrients interact with your cells
How food becomes energy for maintenance functions, physical work, and repair
How your body balances out the food you eat with the work it does
How exercise affects nutritional needs and how nutrition affects exercise
Here are sample topics from Unit 2:
What it means to be a good coach
How to prepare for clients or patients
How to interact with different clients or patients
How to assess clients or patients
How to know which approaches are best for which clients / patients
How to meet people where they are (not where you want them to be)
How to keep people progressing from day one until they reach their goals
Who is the PN Level 1 Certification for?
It's for any health, fitness, or wellness professional (or anyone who's thinking of joining the field) who wants to feel confident in their ability to successfully coach nutrition and get better results for the people they work with.
We've worked with over 50,000 students from every corner of this industry — from personal training and yoga to functional medicine, holistic wellness coaching, and beyond.
Whether you're already mid-career or just starting out, this certification will give you the knowledge, systems, and tools to make a real, lasting change with anyone you work with.
I have a busy life. How long does it take to get certified?
The PN Level 1 Certification is entirely self-paced, so there's no deadline. You can take as much time or as little time as you like.
If you'd like some guidelines, however, the pace that seems to work best for most of our students is completing one chapter per week. That means reading the chapter, reviewing the online video, answering the workbook questions, reviewing the FAQ, and writing the 10-question exam.
If you follow that structure, you can expect to spend 3-5 hours per week on the certification materials. Since there are 18 total chapters, you'd earn your Pn1 credentials in a little over four months. Although you can move more quickly or slowly depending on your situation.
What are the exams like?
There are 18 short exams with 10 questions each. Questions are either multiple choice or true or false.
The exams are delivered online; they can be accessed whenever you're ready. Also, each exam corresponds with the chapter you just studied, and completing the exam unlocks the next chapter.
For instance, if you read Chapter 1 of the textbook, watch the corresponding video lesson, answer your workbook questions, and review the FAQ, you'll be ready to take the Chapter 1 exam. Once the Chapter 1 exam is completed, you'll instantly see your results and get access to the Chapter 2 materials.
What grade do I need to pass?
At least 75%, which most students easily achieve or surpass.
By the end of the course, you'll have written 18 short, 10-question exams, for a total of 180 questions. Get at least 135 of the questions correct (75%) to earn your Pn1 credentials. We'll send your official certificate immediately after you pass.
What if I fail an exam?
You can't fail a specific exam. Your score for the course is cumulative. So you could do very poorly on a few exams and still pass the course as long as you answer 135 out of 180 questions by the end of the course.
What if I don't pass the course?
If you don't earn 135 out of 180 points in the course, you can write a re-do exam at the end of the course. You'll get 5 chances to earn 75% or greater on this exam.
Is the PN Level 1 Certification eligible for CEUs (Continuing Education Units)?
Yes. Here's a breakdown of CEU's currently offered:
ACE: 2.0 CECs
ACSM: 20 credits/hours
CDR: 16 sessions
CPTN: 14 CPTN CECs
Fitness Australia: 15 CECs
NASM: 1.9 CEUs
PTA Global: 24 CECs
REPs UK: 6 credits
What if my certification organization isn't on the list?
No problem. Many organizations accept our course for CEUs on a one-off basis.
To do that, you'll just submit a summary of the course and a copy of your certificate to the organization for review once you've graduated.
How long does it take to get my textbook?
Here's when you can expect your package (and remember that shipping is completely free):
United States: 5-7 business days
Canada: 5-7 business days
International: 2-3 weeks
Once we ship your textbook and course materials, you'll get the tracking details so you'll know exactly where your package i
A deeper understanding of nutrition, the authority to coach it, the ability to turn what you know into results.
The health and fitness field is changing quickly. Obesity and diet-related illness are at an all-time high and millions of people need help with their nutrition more than ever.
Whatever specific field you work in, it's important to understand that the most successful professionals will be those who have a deep understanding of nutrition science and the ability to effectively help others.
That's what we do every day. And we're ready to teach you the same science-based coaching method we've used with major health organizations, professional sports teams, Olympic athletes, and over 100,000 clients and patients worldwide.
Of course, if now isn't your time, we understand. We hope this helped you understand who we are and what we do. We'll be here if and when you need us.
But if you know that the time for you is now, we have a strong recommendation for you: Go for it. Give yourself the opportunity to truly help others. Make the commitment to get the education you need.