TRX GSTC 懸吊訓練小組模式培訓
April 17, 2016 at 9:00 am

-

5:00 pm

HK$2600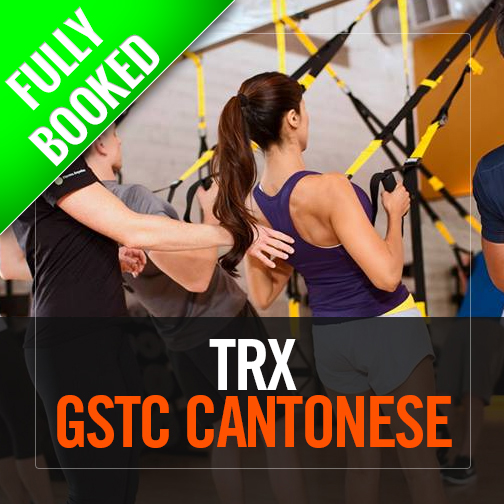 利用TRX懸吊訓練的個人培訓變成為小組訓練模式去拓展潛在的資源和提高收益。本課程教授如何設計有趣和具創意的方案去培訓不同健身水平的學員。課程內容包括TRX懸吊訓練的基礎知識,還提供如何將一系列的TRX力量和靈活性鍛煉訓練運動,變成為小組訓練的模式。
Expand your potential resources and maximize your revenue by bringing TRX Suspension Training to the scale of group fitness classes. This course will help you create fun and innovative classes adaptable to all fitness levels. You'll not only learn TRX Suspension Training fundamentals, but how to incorporate a range of TRX strength and flexibility exercises into a group-training format.
Learn not only the basics of TRX® Suspension Training, but how to teach others in a group fitness class. You will have a TRX® workout in your back pocket ready to teach and be able to create your own classes to suit your teaching style. If you're ready to discover a new way to make them sweat in group fitness, this course is for you.
After completing this 1-day course you will be able to:
Set up and use the TRX® Suspension Trainer
Adjust exercises for every fitness level
Teach a range of both TRX® strength and flexibility exercises
Lead a TRX® Group Class in 2 different formats
Learn to cue clients in a group class
Design group TRX® workouts to fit your own style
Prerequisites: There are no prerequisites to take a TRX Level 1 Professional Education Course. Continuing Education Credits (CECs) will only be applied to certified fitness professionals. Completion of this course will qualify you for Level 2 Courses.
Continuing Education: Upon completion of a TRX Group Suspension Training Course, you will be a TRX Qualified Trainer. You will receive an electronic version of your TRX Qualification, which can be printed for your records and redeemed for CECs. The provider number and number of credits can be found on your Qualification and redeemed on the provider's website.
Continuing Education Credits (CEU's): GSTC Graduates will receive CECs from the following organizations
N.A.S.M. (0.7),  ACE 0.7, AFAA 5.0, AFLCA 7.0, BCRPA 7.0, canfitpro 4.0, Fitness Australia 7.0, PTA Global 8.0, REPS 9.0, and SkillsActive REPS 8.0 (ACSM accepts ACE CECs)
Product Discounts: Course attendees can purchase TRX products for a special price after the course.
Course materials: You will receive a Group Suspension Training Course (GSTC) Manual on the day of the course.
This course is different in nature from the TRX Suspension Training Certification Course (STC) in that the focus is on teaching clients in a small group environment or in a group class structure. Participants will learn to teach two specific GROUP classes to music. Ideal for group and bootcamp instructors and personal trainers working with small groups.