REHAB Master Class
May 29, 2019 at 9:00 am

-

May 30, 2019 at 6:00 pm

$5,400.00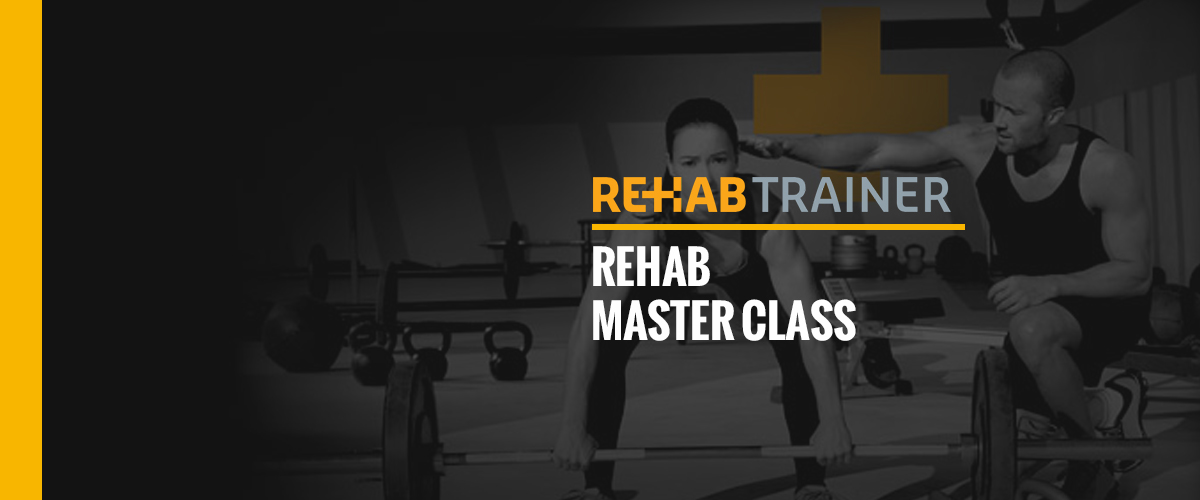 Highly motivated Rehab Trainers are invited to take a 2-day intensive Masterclass that aims to broaden and deepen their skills. All that you learned in Rehab Trainer Essentials will be cemented in as we take everything to the next level! Earn FITAUST and ACE points and be registered on the Rehab Trainer website as a go-to Master Rehab Trainer. Receive and master the use of Taping, Pressure Biofeedback Unit and Movement Deficit Assessments for the highly effective management of your client's injuries.
Your journey began with Rehab Trainer Essentials: gaps in your knowledge were filled, the "R..E..H..A..B" protocol was introduced, and your tool-box of skills was massively expanded to be effective with client's injuries.
What you will learn:
Intensive theory and practical tutorial sessions that will ensure your injury prevention, pain reduction, and biomechanics optimization knowledge and skills will surpass that of your colleagues.
How to use the Pressure Biofeedback for high-specificity of movement re-learning for lumbo-pelvic, cervical, scapular and lower limb dysfunctions.
How to tape using Fixomol, Rocktape and Rigid tape to facilitate quality movement for your client (ground breaking for PT's!)
Re-train running technique to minimize injury and optimize performance
Prevent and fix boxing-related injuries
Protocols for accurately testing muscle and joint range of movement deficits (when is "tight" too tight?)
What you will experience: 
The opportunity to apply what you are learning to real case studies, and combine Rehab Essentials skills with the new Masterclass skills.
The value of testing for Muscle Tightness and seeing how that will aid your reduction of pain and prevention of injury.
The power of neuro-muscular facilitation from Taping.
And the subtlety of the Pressure Biofeedback Unit!
Personalised attention from your Sport
What you will get: 
15 CEC's from Fitness Australia for Australian Exercise Professionals
ACE 1.6 CEU's
A Pressure Biofeedback Unit (high quality version retailing at over $150 AUD – not the Blood Pressure Cuff imitation!).
4 rolls of tape – Australia only – (total value $40 AUD).
High quality course manual with photos and pictures to help you remember what you've learnt.
Pre-course reading to help you prepare.
Accreditation as a "Master Rehab Trainer" with a laminated high quality certificate.
Three months exclusive access to Club Rehab.
Public online registration through as a Master Rehab Trainer in your region!