REHAB Elite
August 21, 2017 at 9:00 am

-

August 23, 2017 at 6:00 pm

HK$8400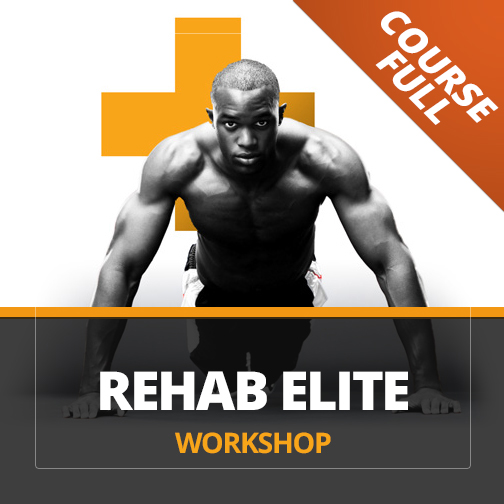 Fast-track injury rehab for high-value clients and elite athletes
Special skills are required to get pro athletes back into competition quickly and safely, and to prevent injury recurrence – skills that are often kept in-house and unavailable to the high-value social athlete or fitness enthusiast. In the elite in-house clinics and lockerooms, million-dollar contracts are at stake and sports management teams know that the right skills can easily make the difference between a slow or a quick return to sport; a one-off injury or recurrent chronic injury that threatens the career of a valuable athlete. Now you can learn these secrets, and how to customise them for the social or professional athlete or the superfit, at our new course: REHAB ELITE.
In Rehab Elite our Senior International Rehab Trainer Educator, Australian Sports-Specialised Physiotherapist Chris Mallac brings together all his 20 years of experience with elite athletes, his own research and writing as the world-renowned Sports Injury Doctor, and his passion and effectiveness as an Educator, to this highly practical 3-day face-to-face course. 
Topics and skills covered:
Exit Criteria for Athletes: How do you know when the client is functionally strong and ready to go back and train/play?
The latest in PNF Technique and how it is extensively used in the athletic rehab world.
Understanding the causative factors in overuse injuries (Chris' famous BEETROOT formula), including the science of "Load Management".
The role of Muscle Stimulators from surgery to 'fit to play, including practical sessions to experience how they can work for injuries.
Understanding and Assessing the Pelvis and its critical and central role in high-end athletes.
The importance of hip rotation and ankle dorsiflexion: assessment and unique mobility techniques to improve it.
"Occlusion Training" – all you need to know on this exciting field and how it applies to rehabilitation.
The Neuro-dynamics and what is safe "nerve stretching".
Understanding Optimum Function of the Pelvis and its critical and central role in high-end athletes.
Extensive Case Studies, and much more…
What you receive on Rehab Elite:
Three full days face to face practical learning as part of a small and carefully selected group (max 14 invited) with Chris Mallac; includes manual and handouts.
"Stretch band" and "Pocket Physio Max" equipment by Lockerroom
Rehab Express Online as part of pre-course preparation
1 year subscription to the Sports Injury Bulletin after the completion of the course.
Elite Rehab Trainer Polo shirt.
This exclusive invite-only course will revolutionize how you manage athletes if you are an:
Athletic Trainer / Physiotherapist working with teams
CrossFit coach experienced with Movement Dysfunction
Strength and Conditioning coach
Specialized Master Rehab Trainers with an athletic client base
Trainers who have not completed Rehab Masterclass should email Educator Chris Mallac ([email protected]) for confirmation that this course is suitable for them.