Parkour Fitness Specialist Certification – Level 1 Trainer Course
March 25, 2017 at 9:00 am

-

March 26, 2017 at 6:00 pm

HK$5200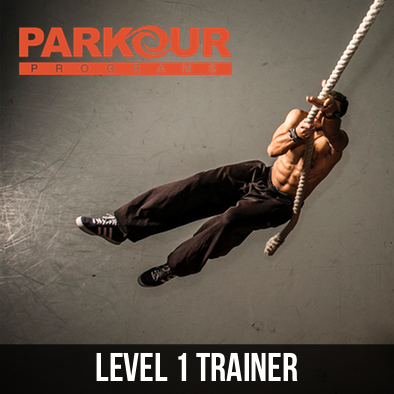 Course Description:

Parkour Fitness Specialist Certification is a training and certification programme based around the functional strength, fitness and mobility elements of the groundbreaking and dynamic discipline of parkour / free running.
Parkour training has been seen to develop incredible levels of strength, speed, power and endurance in its practitioners, and now the fundamental principles of that training can be found in the Parkour Fitness Specialist programme.
Parkour Fitness has a task-oriented approach to fitness training, requiring constant adaptation and application by the individual, and is centred around a holistic approach to multi-planar mobility, body sensitivity, functional strength, agility and spatial awareness. To be truly functional means to be able to apply one's physical abilities in a real- world environment, not solely in the sanitized confines of a gym or soft space, and the constant adaptation required to achieve this brings about a natural and true functional fitness.
The two-day Parkour Fitness Level 1 Course provides an insight into these fundamental concepts and constant exposure to the practice that surrounds them, and presents a new yet very old way of understanding how the human body is best developed, refined and improved for movement in any environment. The course condenses the agility, mobility and movement concepts of parkour into a training paradigm that fitness professionals can then apply within their own training programmes. Completion of the Parkour Fitness Specialist Level 1 course enables the candidate to begin delivering the Parkour Fitness concepts within a physical training environment.
Level One Course Overview
The aim of this two-day course is to expose trainers to the core concepts of parkour and how those concepts can be applied in a fitness training environment and expanded upon to create true functional practice and movement-based fitness. Further, it is also designed to convey the fundamental strength and fitness training methods used by parkour practitioners.
The method of the course is a mixture of practical sessions and discussion, both tutor-led and group-based. Learners will be expected to take part in all sessions, as physical experience of the exercises is essential to gain a full understanding of the concepts.
The course will be highly physical and learners should expect to be pushed physically and mentally throughout. It is recommended that learners have a background in strength and fitness and/or movement- based training, and at least one recognised fitness or sports coaching certification. Parkour experience is useful, but not required.
Certification Course Contents Include:
Introduction to parkour: origins and development of a practical movement discipline – real-world functionality
Parkour as physical training: movement-based training, true functional fitness and strength, versatility training, task-oriented practice
Utilizing your environment: adapting to terrain, tactile sensitivity, familiarity with obstacles, overcoming spatial fears.
Bodyweight support mechanisms, quadrupedal movement and locomotion
Mobile balance drills, accuracy and precision
Impact absorption – jumping and landing basics, plyometrics
Redefining agility – multi-directional, multi-planar movement at speed
Application to terrain – ascending and descending movements,combinations and route-based progressions
Managing fear, the importance of challenge and integrating body and mind in movement 1