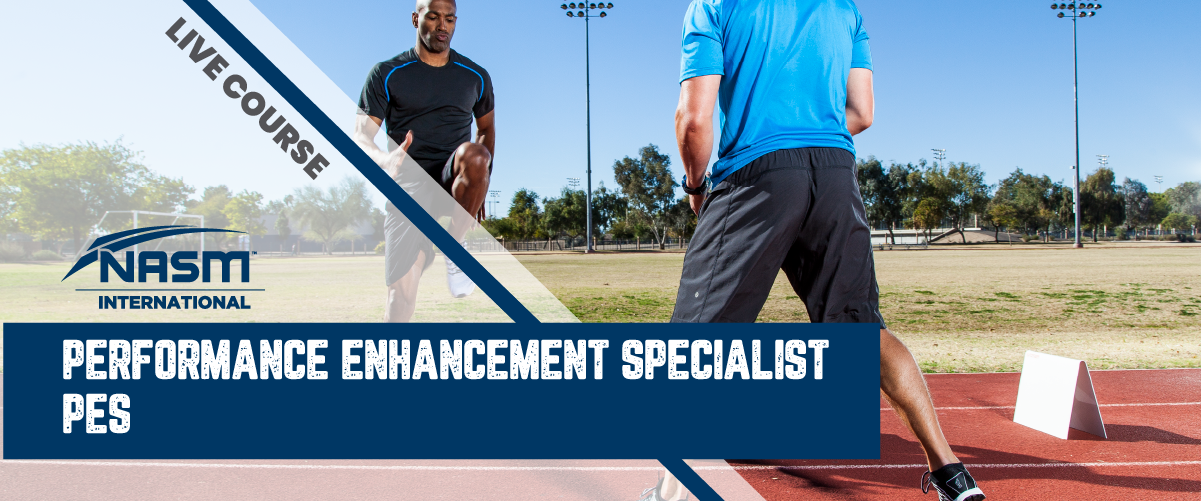 基於運動表現是訓練中最嚴格的訓練形式,此課程將幫助您與任何能力的客人(青少年運動至專業的運動員)合作。  NASM-PES根據美國國家運動醫學學會「最佳運動表現訓練」模式,通過引入最大功率層面將訓練提升到更高水平。 這一階段的訓練側重於高速訓練,增加運動員的力量投放。 您能從NASM-PES計劃中獲得的進階知識和技能,幫助您提高客人的運動表現,尤其是力量、速度、敏捷性和敏捷性。
在此課程您可以:
使用這一著名的美國國家運動醫學學會憑證改善您的個人培訓市場。

比其他沒有NASM-PES認證的私人教練高百分之四十的收益能力。*

進軍新市場,特別是中學及大學運動員。

提供更強大、動態的鍛煉技巧,最大限度地提升表現並幫助預防受傷。

獲得美國國家運動醫學會運動表現心理學、運動營養學和機能助理方面的額外專業知識。
這課程包括:
廣東話課堂:2個星期日(9月26日及10月3日), 時間由 9:00 am 至 7:00 pm

英文教科書:NASM Essentials of Sports Performance Training

英文網上視頻教學

英文網上最終考試 – 3次
這課程將會在尖沙咀山林道工作室舉行
備註:所有網上視頻教學都只能透過桌上或手提電腦登入,並不支援電話,平板電腦及其他手提裝置。
Sports performance is one of the most demanding forms of training. The NASM Performance Enhancement Specialization (NASM-PES) will prepare you to work with clients at any level from youth sports to professional athletes. Developed utilizing NASM's evidence-based OPTTM model, the NASM-PES takes training to a higher level by introducing the Maximal Power phase. This phase of training focuses on high-velocity training to increase an athlete's power input. The advanced knowledge and skills gained from the NASM-PES program will help you improve client athletic performance, especially their power, speed, agility and quickness.
With the NASM-PES you can:
Improve your personal training marketability with this prestigious NASM credential. 

Increase earning power—up to 40% more than other Certified Personal Trainers without the NASM-PES designation.* 

Tap into new markets, especially youth and high school/college athletes. 

Offer more powerful, dynamic exercise techniques, maximize performance and help prevent injuries. 

Gain additional expertise with NASM's in sports performance psychology, sports nutrition and ergogenic aids.
The course includes:
Live workshop over two Sundays from 9:00am to 7:00pm

Dates: September 26 and October 3

NASM-PES textbook

NASM-PES online material

Online Final Exam (3 attempts)
These courses are held at our TST Studio
Remark: All online material can only be accessed using desktop or laptop computer. iPhone, iPad, Windows Phone or Android devices are not supported.