NASM/AFAA OPTIMA 2021 Virtual Conference : English
Thu October 21

-

Sun October 24

Free – HK$1600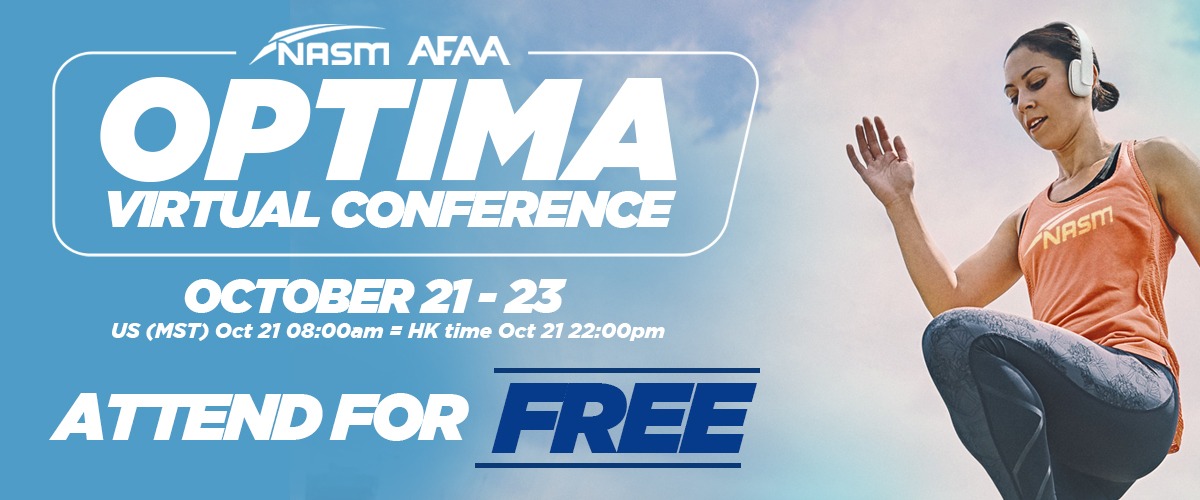 NASM/AFAA OPTIMA Virtual Conference
NASM/AFAA brings the OPTIMA Virtual education and experience online with its virtual conference. Spread out over 3 days (in Hong Kong late in the evening and night time), you'll experience everything OPTIMA has to offer from the comfort of your own home. Get ready for industry leading presenters, cutting-edge and trending topics specially tailored for the virtual environment and the future of the fitness industry.
3 Full days of learning October 21-24, 2021 (Hong Kong dates, mainly late evening and night time)
Full Access to all 100+ sessions for FREE, or upgrade to earn 1.9 Continuing Education Units (CEUs)
Join 10,000+ fitness professionals from around the globe
Candidates have two options to select:
Full Access Pass: FREE
Full Access Pass with Continuing Education Units: HKD1,600

How many CEUs can you earn at OPTIMA if you choose the CEU Pass?
NASM/AFAA anticipates attendees can earn up to 1.9 NASM CEUs / 19 AFAA CEUs at the OPTIMA Virtual Conference, depending on the sessions selected and attended, however this is subject to change. Every 60 minutes of instruction is awarded 0.1 NASM and 1.0 AFAA credits. The schedule will list CEU credits for each applicable session.
Will the CEUs earned at OPTIMA 2021 be applied, even when you are not done yet with CPT certification?
If you are not an existing certification holder at the time of the event, you will not earn any CEUs, nor can OPTIMA 2021 be retroactive applied once for a later-earned certification.
Is there an age requirement to attend/register?
You need to be at least 18 years of age to attend OPTIMA 2021.
How do you get access to the OPTIMA 2021 Conference?
Once registered, you will receive an e-mail directly from the host company with an access link to participate in the OPTIMA Virtual Conference.
How do you get the certificate(s) if you choose the CEU Pass?
You will be able to print out the Completion Certificates from the virtual event platform. These Record of Completion will be available during OPTIMA 2021 and the 60 day period of ON DEMAND ACCESS, and then it will be shut off.