Animal Flow Level 2 Instructor Certification
November 30, 2018 at 9:30 am

-

7:30 pm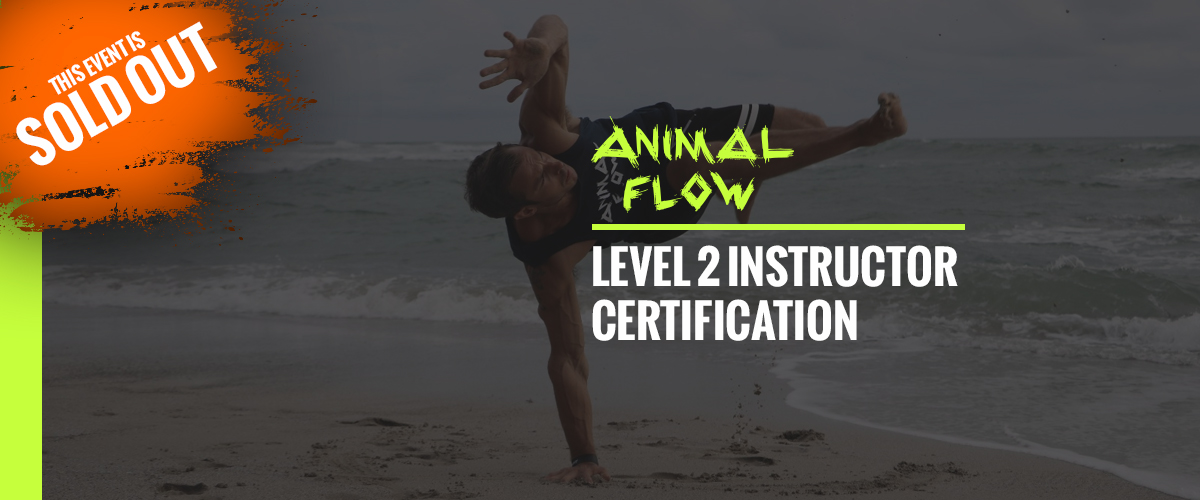 Animal Flow Level 2 is for all you Certified Animal Flow Instructors who are ready to take your practice up another level! Now that you've learned the basics, it's time to start adding in new moves, playing with your flows, incorporating more hand balancing, and getting more advanced in both your movement and your flow design. Animal Flow Instructor Richard Scrivener will teach this 10 hour course, and you are sure to have a great time exploring your movement!
What's Included in Level 2?
Participants will learn how to successfully perform the Level 2 exercises, as well as how to correctly integrate the movements with Level 1 to create extended Flows with an increased degree of complexity and intensity. Participants also learn how to instruct the movements and incorporate them into a training program. Emphasis is placed on understanding how the Level 2 movements train the fascial slings of the body; understanding the role of dissipating force, fluidity, and leverage in the advanced movements; and understanding how to instruct a range of progressive drills and conditioning exercises that form the introduction to hand balancing practice. And, participants will become better movers and fitness professionals!
The full-day agenda includes:
Review of key Level 1 moves
Introduction to Hand Balancing: Tuck Balances
New Transitions: Reaching Underswitch; Scorpion Sweeps; Crocodile Rolls and Pop Outs;
New Traveling forms: Bear, Leopard, Crocodile;
Using traveling forms as a "link" for switches and transitions
How and why to introduce tempo change into a flow
Intermediate flow design
Who Is Eligible?
To enroll in Level 2, you must have already taken the Level 1 workshop at least 30 days prior to the date of the L2 workshop.  You may still enroll even if you have not completed the test process to become a Certified Instructor.
Test out Process for Level 2:
There is a Test Out required for L2.  Like Level 1, it requires submitting videos after the fact, although the video requirements are different.  Part 1 is them teaching 3 of the Level 2 moves to someone else;  Part 2 is performing a 3-minute flow that includes specific required elements.  The test out instructions can be found in the following.