By Wayne David Clark
As fitness professionals we sometimes tend to neglect our own bodies in favour of helping others achieve their goals.
We become so focussed on the needs of others that our own needs tend to be placed on the back burner. Having said that a lot of the trainers that I come in contact with here at OPS tend to practice what they preach which is very reassuring.
As a seasoned Fitness Professional, Trainer and Educator, I spend a lot of my time encouraging and nurturing new trainers to reach their goals and strive to see full potential, and in doing so tend to neglect my own personal well being. Especially now that I am working in an office for the majority of the day for the first time in nearly 20 years, it is slowly taking its toll on my posture and mobility.
That was until I started teaching again, after a 2 year hiatus, and have never felt better. For now that is simply teaching a few classes per week mostly Mobility classes, but these 50 minute sessions have transformed my body in a way I never thought possible. Well I actually knew it was possible, I was just too lazy before, and as someone who lives to teach in every aspect I take relish in the thought of being able to share and help others feel good and look better.
It didn't really take long at all, before I was starting to feel that moving, even just walking, was so much easier. I am very conscience of how I feel and move, and have noticed a marked change in my freedom of movement, my gait and my overall posture in general.
I have my own little morning ritual as well as my classes that I teach. Basically all I am doing is waking up and stimulating my fascia to give me a good start to the day. Being in this business for the last 37 years or more, I have noticed a real shift in programming. Like most things we evolve, that is just human nature, but from a scientific standpoint we have made some real significant and remarkable changes.
Having been privy to some incredible education over the decades, I have to say that sometimes all this information can feel a little overwhelming at times, and when that happens I find that my ability to learn seems to be hindered some-what, but eventually I manage to get my head above water again and then I can move forward and put to good use the new information that I had just been privy to.
For me FOAM ROLLING Self Myofascial Release, as the name suggests, has been a godsend and the fact that I can get to teach it (meaning that I have to do it) is also a blessing in disguise. I feel and move so much more freely which is a great feeling, and I have seen that not just in me but also in the clients that attend my classes.
So if you are feeling a little unbalanced and or stiff, and lets face it who doesn't feel stiff, especially as we get older, I suggest that you get your hands on a roller and try rolling. I guarantee you will notice a difference almost immediately, and if you are not sure what to do, then pop along to one of my classes and let me help make you feel better.
Tuesday 6:30 p.m. (50 mins)
Thursday 7:30 p.m. (50 mins)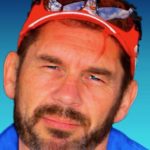 About Wayne:
Originally from North Sydney Australia, born September 1958, Wayne grew up on the northern beaches where he lived and worked as a trainer and instructor for many years.
Wayne's career as a whole, has spanned more than 35 years… As an Instructor/Trainer, Wayne has been fortunate enough to travel the world, helping people meet their personal fitness goals, places like Mauritius, Maldives, Philippines, New Zealand, Australia, Beijing, Singapore, and Thailand.
In Hong Kong Wayne was responsible for the Administering and lecturing of the FISAF Group Fitness Training Course with AASFP, the Asian Academy of Sport and Fitness Professionals, as well as working with some of the Largest Fitness Chains internationally as an Instructor Trainer and Manager. Wayne has for the last 10 years, been working with Hong Kong University SPACE, on their Advanced Diploma in Fitness and Exercise Studies, which has helped expand his knowledge and experience.
Currently Business Development and Education Manager for Optimum Performance Studios Central, Wayne continues to educate, train, and motivate instructors throughout the Asia-Pacific Region.
Wayne's Philosophy… 'I believe in the true essence of teaching, edification and a hands on approach, as it is only through the integration of the two, that mastering a skill is achievable'